Fibers are carbohydrates that the human body is unable to digest and absorb. Therefore they are indigestible substances by the enzymes of the human being. In particular, it has numerous benefits so it is good that it is present in the right proportions in every diet program.
SOURCES OF FIBERS
It is mainly contained in green vegetables, whole grains, fruit. In particular, during digestion, when it passes through the intestine, the dietary fiber absorbs water and increases in volume. The absorbed water softens the faeces favoring their intestinal transit. Therefore, by favoring the passage of feces in the intestine, the residence times in the digestive organ of harmful substances are reduced. Therefore the possibility of the onset of various types of intestinal inflammation is reduced but also of more serious events such as colon cancer and rectal cancer. In addition, the fiber hinders the absorption of lipids including cholesterol and sugars. So it helps to fight obesity and to keep blood sugar, cholesterol and triglyceride values ​​under control. In particular, all this helps prevent diseases such as diabetes mellitus, atherosclerosis, hypercholesterolemia, hypertriglyceridemia as well as numerous coronary diseases. Furthermore, it is important to keep the intestinal PH within correct values. It therefore creates the conditions to hinder the growth of harmful bacterial flora that produces substances linked to the onset of inflammation and tumors. In addition, it creates the conditions for the development of beneficial bacterial flora. In particular, it has a prebiotic effect with the production of numerous substances useful to the body as well as having a protective action against the intestinal mucosa. It also promotes a feeling of fullness by promoting the feeling of satiety. So it helps prevent overweight and obesity
SOLUBLE FIBER
Inside the intestine it becomes a viscous gelatinous substance with chelating properties against nutrients such as lipids and carbohydrates. In addition, it makes the intestinal contents viscous, causing a sense of satiety. In particular, the foods richest in soluble fiber are legumes, oats, barley, fresh fruit, psylla seeds, broccoli.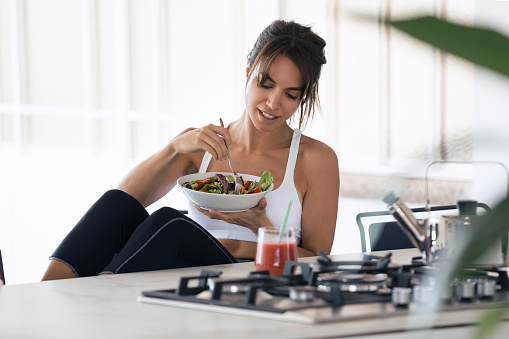 CORRECT QUANTITY OF FIBER
Of course, like all foods, fiber must also be ingested in the right proportions. In fact, if it is very useful in the right quantities (about 30 grams per day), its excess can be harmful. In fact, an excessive amount of this substance can be harmful. Furthermore, it can produce an excess of phytic acid which hinders the absorption of numerous minerals such as iron, zinc, selenium, calcium. It is always advisable to have adequate fiber for one's dietary needs. So I would recommend including wholemeal bread and pasta in your diet (white flour bread and pasta have the disadvantage of having a high glycemic index). In fact, the simple sugars that contain foods based on refined flours stimulate the production of insulin by increasing the entry of sugars into the cells and, therefore, their transformation into fats. In particular, foods with a low glycemic index are essential in a healthy diet. In fact, they reduce the accumulation of fats and hinder the increase in blood cholesterol and triglyceride values.
RECOMMENDED RECIPES
So I would recommend a diet with a moderate amount of fiber. Then a breakfast based on a cup of milk, yogurt or kefir, a teaspoon of honey dissolved in it, whole grains and a seasonal fruit. A cup of green tea mid-morning.
So for lunch a not excessive plate of pasta p brown rice with vegetables, tomato sauce, fish sauce, then another fruit. In the afternoon I would drink a juice of two oranges. So I would have a serving of meat once a week, another time with an egg. Then a portion of cheese another day. The other four days of the week I would have a meal of fish. In particular, preferring blue fish (especially cod, anchovies, sardines) or salmon.
doc. Massimiliano Mangafà