The pursuit of fun and health must coexist in every moment of life. In particular, when the body is in harmony so is the mind and the opposite is also true. Physical and mental elements are necessary for the harmony of the body. Plus it's the same for the mind. However, I remember the holidays spent with my parents and my little sister when we were children. In particular, I remember the first hippie-style holidays in the 70s when I was a child in a tent and those a little more comfortable in the 80s in a camper. So I remember the sense of peace and freedom surrounded by greenery and nature, often a few meters from the beach. Plus we spent our holidays in beautiful places.
EAT VEGETARIAN IN SMALL TYPICAL RESTAURANTS
Moreover very often we went to Greece. However, from time to time we also chose other destinations such as France, former Yugoslavia, Spain, Austria, Hungary, Bulgaria, Romania, Turkey. In particular the holiday was divided into a day of travel with the camper to move from one location to another and three, four or even five days of stay in the new destination. Obviously, the more pleasant the place was, the longer we spent camping. Of course the sense of peace was the same but the travel was more confortable then the one we made with the tent.
I also remember with pleasure that, during the trip, it could happen to see a beautiful beach from afar, a few hundred meters from the road. So we diverted and went down to paradisiacal beaches often isolated or with very few bathers who, like us, were passing campers. In addition we stopped for a few hours, bathed in pristine waters, cooked something, took a nap and then left. In particular, these trips in tents and then incamperes are among the best memories of childhood, adolescence and early youth.
GREECE
Frequently in Greece, in these isolated beaches, there is at least one small characteristic restaurant called in Greek "psistarià". They are typical places where the always present foods are grilled meat, both steak and souvlakia (characteristic Greek skewers). That is pork, generally the part called capocollo (it has the right amount of fat to make it very tasty) marinated in a liquid based on oil, lemon, salt and oregano and then cooked on coals. Moreover the sense of peace to eat in a small resturant good dishes under the trees was wonderful.
Especially the vegetarian traveler does not have an easy time in Greece. In fact, Hellenic cuisine derives from Middle Eastern cuisine which is rich in meat dishes. Therefore a vegetarian traveler wishing to visit Greece or many eastern countries should, before departure, inquire about the local specialties. In particular, Greek cuisine also includes many excellent meat-free specialties. In fact, in the Hellenic land a tradition of culinary preparations typical of the period of Lent has developed in which tradition advises the faithful to avoid meat. So these dishes are very tasty and I recommend that every manager try them in the small trattorias that are almost omnipresent in Greek or Eastern European campsites or in any case in the campsites of Mediterranean countries. Or even in the characteristic places of the south of the U.S, A, or in the Caribbean.
TYPICAL GREEK VEGETARIAN DISHES IN THE RESTAURANTS
For example, a vegetarian can go to the small restaurant of the Greek campsite and order "tomatoes or courgettes stuffed with rice" called "jemistà". Or characteristic fried vegetables with batter (usually aubergines or courgettes) that is "melizanes (aubergines) or kolokitia (courgettes) tiganites (fried). In addition, in Greek trattorias, fries, zaziki (yogurt, cucumber and garlic cream are omnipresent ), melizanolsalata (grilled aubergine cream and yogurt). Again these fried vegetables can be accompanied by skordaglia (a potato and garlic cream). a spinach filling. Then there are other ways of cooking vegetables such as baked vegetables called Briam. In addition there are stuffed eggplants (papuzakia) or baked accompanied with a little rice (Iman Baldì). Or there are also the excellent plakì beans. I also recommend trying the dolmades (rice balls wrapped in grape leaves).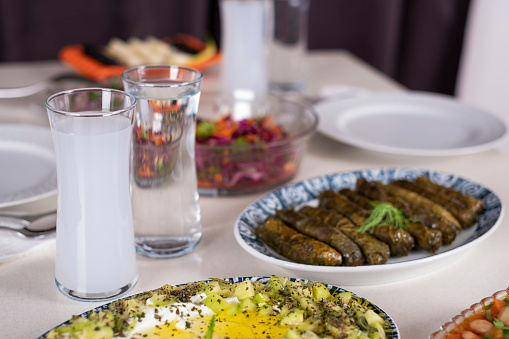 OTHER VEGETARIAN DISHES ABROAD IN SMALL TYPICAL RESTAURANTS
I still recommend trying the famous vegetarian tapas or vegetarian paella in Spain. In fact, they are widespread in the small restaurants of Spanish campsites. However, those who do not want to eat often in the restaurants of the campsites, even to eat in a healthier way, can cook independently. In particular, cans of tomato sauce can be loaded into the camper. Then you can cook the sauce in a pan by adding a little oil, salt and garlic or onion. Then cook until the sauce loses part of its water. Later we can use it to season pasta or rice.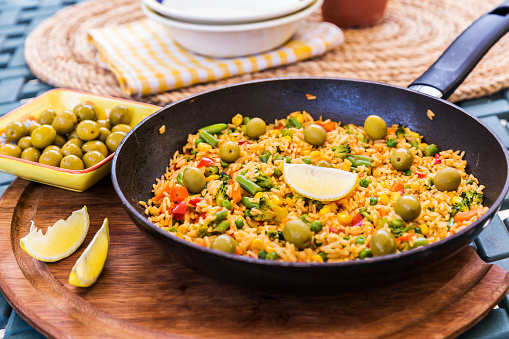 DIY RECIPES FROM THE VEGETARIAN CAMPER
http://www.travelandleisure.com
In addition, you can prepare wonderful salads with lettuce, tomato, carrots and possibly add tofu or cheese. In particular, if we are in Greece we can imitate the typical national salad. That is, the "Koriatica" salad with tomato, cucumber, onion, olives, oil and feta cheese. So it can make for an excellent complete meal. Then another simple, healthy and quick dish is grilled vegetables (eggplant and zucchini in particular) seasoned with olive oil, balsamic vinegar or even a little soy sauce. In addition, these vegetables could be placed on a baking sheet and then cooked in a small camping oven and topped with cheese, tofu or a spoonful of soy sauce. Also you can cook simple risotto with tomato sauce, curry or saffron. In fact, a camping stove, a small pan and the necessary ingredients are sufficient.
doc. Massimiliano Mangafà